IRF510 N-channel Power MOSFET
IRF510is a third-generationPower MOSFETwith the best combination offast switching and low on-state resistance. This component is available at a lower cost. Hence, it is widely used in industrial applications forpower dissipation levels up to 43W.
IRF510 MOSFETis capable to withstand drain-to-source voltage VDSup to 100V and continuous drain current IDup to 5.6A. It can withstand 20A current in pulse mode and belongs to the package TO-220AB. It is designed for applications that require high-speed switching like a motor driver, switching converter and regulators, etc.
IRF510 Pinout Description
| | | |
| --- | --- | --- |
| Pin No | Pin Name | Pin Description |
| 1 | Gate | Control the biasing of MOSFET |
| 2 | Drain | Current flows-in through Drain |
| 3 | Source | Current flows-out through Source |
Features
Dynamic dv/dt rating

Single-pulse avalanche rated

High input impedance

Linear transfer characteristic

High-speed switching speed (in terms of nano-second)

Ease of paralleling

Operating temperature up to 175˚C

Low thermal resistance
Applications
The applications of IRF510 are listed below.
UPS (Uninterruptable Power Supply)

Battery charger and management system

Motor driver circuit

Telecommunication and computer applications

Solar UPS

Fast switching applications

Switching converter and regulators
Technical Specifications
晶体管Polarity: N-channel

Drain-to-source V电压DS: 100V
Drain-to-source current ID: 5.6A
On-state resistance (drain-to-source resistance) RDS: 0.54Ω

Operating temperature range: -55˚C to 175˚C

Gate charge Qg: 8.3nC
Gate-source voltage VGS: ±20V

Maximum power dissipation: 43W

Maximum voltage required to conduct: 2V to 4V

Package type: TO-220AB
Note: More technical specifications can be found in theIRF510 datasheetattached at the end of this page.
IRF510 Equivalent
IRF512,IRF120,IRF522,IRF520,IRF634,IRF532
Switching Characteristics
Turn-on delay time td(on): 6.9ns
Turn-off delay time td(off): 15ns
Rise time tr: 16 ns
Fall time tf: 9.4ns
Simulation
ThisMOSFETis a switching device that will turn on when sufficient gate voltage is available or else, it will remain in turn-off condition. In this simulation, we will use IRF510 to turn on an LED. If the applied gate voltage is not sufficient to turn on the device, the current will not pass from drain to source and the LED will remain in off condition.
When the gate voltage is sufficient to turn on MOSFET, the LED will turn on and the current will pass through the drain to the source.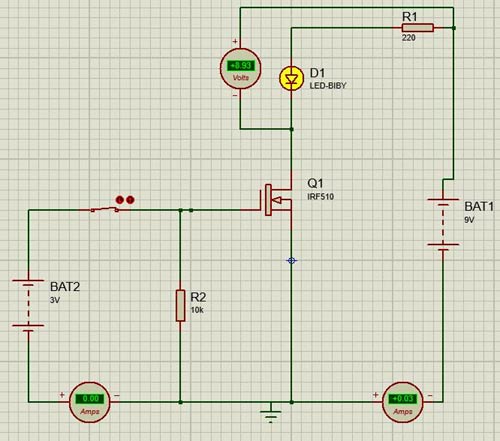 2D Model and Dimensions
Ifyou are designing a PCB or Perf board with this component, then the following picture from the Datasheet will be useful to know its package type and dimensions.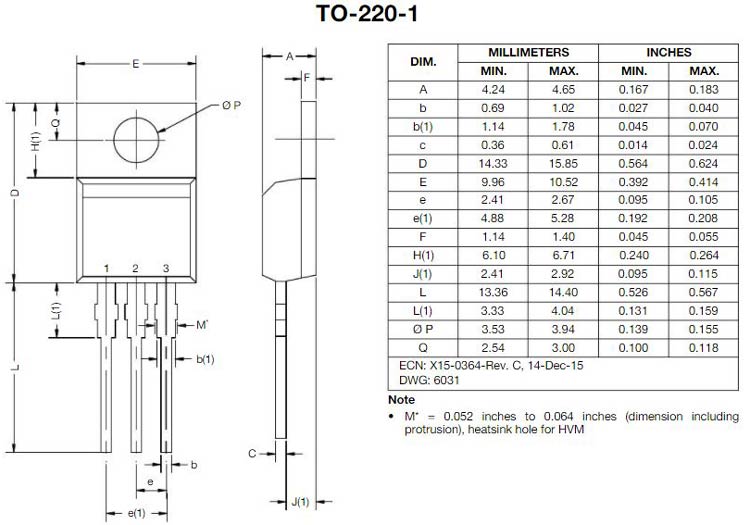 Related Post